(Click here to go to the most current match-up.)

Since we don't have enough polls/tournaments going with the Baseball Fan's Hall of Fame Project, the Best Sports Movie of All-Time, and the Most Dominant Athlete of All-Time, we thought it was time to do another tournament.

As we all know, athletes are notorious for the trim they pull. But who has done the best? We have taken it upon ourselves to find out, dammit. We chose 31 beauties and seeded them according to our tastes. Argue with the seedings all you want in the comments section, but somebody had to do it. If you don't like it, change their rankings by simply voting for your faves as we go through the tourney.

Why 31? It seems an odd number, doesn't it? Yes, it does. Since we knew there would be controversy over who we chose, we left the 32nd seed open and are going to let YOU decide who we left out. Just enter your choice in the comments and why we should have her as the winner of the "play-in game" and she'll make the tourney.

Without further ado, here are the seeds and your first matchup.

1) Ingrid Vandebosch (Jeff Gordon)
2) Gisele Bundchen (Tom Brady)
3) Elin Nordegren (Tiger Woods)
4) Veronica Varekova (Petr Nedved)
5) Ashley Judd (Dario Franchitti)
6) Bec Cartwright (Lleyton Hewitt)
7) Eva Longoria (Tony Parker)
8) Gia Allemand (Carl Pavano)
9) Carmella DeCesare (Jeff Garcia)
10) Laura Cover (Aaron Boone)
11) Jennifer Walcott (Adam Archuleta)
12) Tamia Hill (Grant)
13) Danielle Gamba (Nick Swisher)
14) Victoria Beckham (David)
15) Aleka Kamila (Peja Stojakovic)
16) Angie Harmon (Jason Sehorn)
17) Candace Cameron (Valeri Bure)
18) Melanie Slade (Theo Walcott)
19) Cheryl Tweedy (Ashley Cole)
20) Pilar Sanders (Deion)
21) Anna Benson (Kris)
22) Amy Mickelson (Phil)
23) Danielle Lloyd (Teddy Sheringham)
24) Lisa Guerrero (Scott Erickson)
25) Sheree Murphy (Harry Kewell)
26) Yeliz Okur (Mehmet)
27) Vanessa Bryant (Kobe)
28) Gabrielle Reece (Laird Hamilton)
29) Buffy Waltrip (Michael)
30) Bridgette Wilson (Pete Sampras)
31) Jennie Finch (Casey Daigle)
32) Write-in ________YOU TELL US!________


CURRENT MATCHUP
#16 Angie Harmon (Jason Sehorn) v. #17 Candace Cameron (Valeri Bure)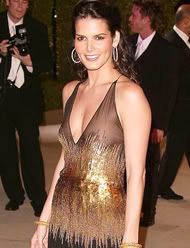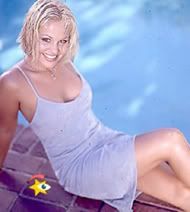 POLL CLOSED
Final Results (87 votes):
Candace Cameron (Valeri Bure): 58.6%
Angie Harmon (Jason Sehorn): 41.4%

(Click here to go to the most current match-up.)

Be sure to tell us who is your #32!